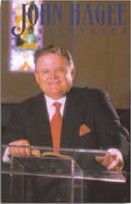 The Harry Potter books have sold over 100 million copies in 40 languages around the world. These books are nothing more than witchcraft manuals for an innocent generation of children.
Satan is trying desperately to penetrate the very souls of our children. Are we going to sit back and allow this to happen under the pretense of, "my child is finally reading", or "Disney has witches, it's the same thing"? NO, it is not the same thing! Harry Potter is a "chosen" witch, who practices witchcraft, and is the "hero" of these novels. If you are allowing your child to read Harry Potter, you are opening the door to allow Satan to enter into your child's life.
Pastor Hagee conducts in-depth interviews with occult expert Caryl Matrisciana and author Dr. Robert McGee, exposing the dangers of Harry Potter and how it makes witchcraft more acceptable. It will inform and shock you.